Stardust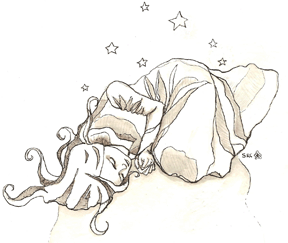 The Stardust Collection.
This series is based on the characters, locations, ideas, and dreams found within the pages of Neil Gaiman's extraordinary, haunting fairy tale, 'Stardust'.
Stardust, the motion picture based on Mr. Gaiman's story, was directed by Matthew Vaughn and features Claire Danes, Michelle Pfeiffer, Robert DeNiro, and Charlie Cox.
A heartfelt thanks to Neil, and to the kind folks at Paramount, for giving us the opportunity to create these scents!
Neil Gaiman's Official Site | Neil Gaiman's Official Online Store

This is a charitable, not-for-profit venture: proceeds from every single set and tee goes to the National Coalition Against Censorship, which works to promote freedom of thought, inquiry, and expression while opposing censorship in all forms.
Artwork on this page by the lovely Sarah Coleman!
Because of the nature of this project, imps are not available for any Stardust scents.
Tristran Perfume Oil

Tristran put down his wooden cup of tea, and stood up, offended.

"What," he asked, in what he was certain were lofty and scornful tones, "would possibly make you imagine that my lady-love would have sent me on some foolish errand?"

The little man stared up at him with eyes like beads of jet. "Because that's the only reason a lad like you would be stupid enough to cross the border into Faerie. The only ones who ever come here from your lands are the minstrels, and the lovers, and the mad. And you don't look like much of a minstrel, and you're – pardon me saying so, lad, but it's true – ordinary as cheese-crumbs. So it's love, if you ask me."

"Because," announces Tristran, "every lover is in his heart a madman, and in his head a minstrel."

Dust on your trousers, mud on your boots, and stars in your eyes: redwood, tonka bean, white sandalwood, lemon peel, patchouli, rosewood, coriander, and crushed mint.

Add to cart