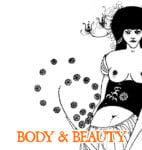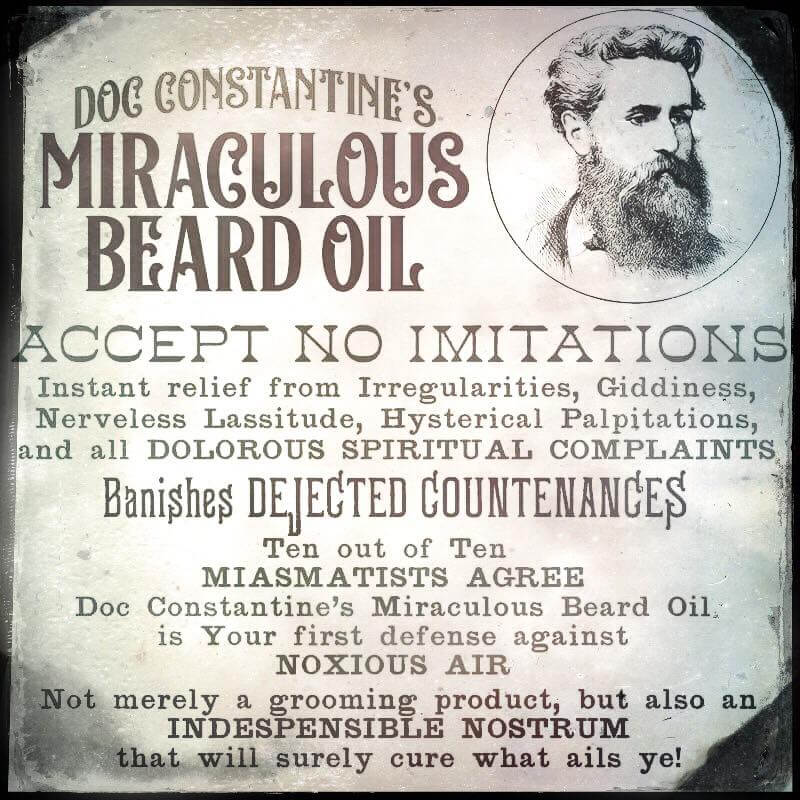 Our gently-scented oils are a magnificent grooming tool that will moisturize both your beard and your skin. Black Phoenix beard oils add a healthy, gleaming shine while taming and softening your whiskers!
The ridiculous marketing for our beard oils is a parody of Victorian quack medicine and snake oil peddlers. Our beard oils will NOT cure anything – neither giddiness, nor dolorous spiritual complaints – and our ridiculous copywriting is, as they say, jokeses. HOWEVER, they will likely banish miasma.
Black Phoenix's Beard Oil is paraben and sulfate free, and contains no petro-chemicals, no GMOs, and no triclosan!
BLACK PHOENIX ABHORS ANIMAL TESTING
All Black Phoenix Products are tested on Doc Constantine himself! (Plus friends and family.)
Please exercise common sense when using our beard oils: do not eat, do not snort, do not drink, do not pour into eyes, etc.
If irritation occurs, discontinue use immediately.
Presented in a one ounce amber bottle with dropper top.
Jojoba oil, argan oil, rosehip seed oil, evening primrose oil, grapeseed oil, rosemary oleoresin extract, and Black Phoenix Alchemy Lab fragrance.
Aristotle Beard Oil

ARISTOTLE of Stagira (384 BCE – 322 BCE)

His Poetica saved the cat 23 centuries before the first screenwriting how-to book.

The history of Western logic begins with his Organon.

Aristotle studied under Plato, who studied under Socrates, and this ancient Greek beardy trinity became known as the "fathers of Western philosophy."

The founder of the Peripatetic school (named for his custom of walking as he lectured), Aristotle systematically examined human endeavor and the natural world. Though some of his ideas were just plain inaccurate, he not only invented an early version of the scientific method, he was first to categorize similar living things by group, and sorted his treatises by topic (ethics, semantics, economics, politics, religion, zoology, biology, physics) substantially as we study and practice the arts and sciences today.

Aristotle's writing blew away contemporaries; yet of 200 works, all that remain are a few dozen crummy sets of lecture notes and compilations by students and students of students.

We may have lost his legendary eloquence, but even the literary shadows of his original compositions illuminate our thinking a couple of thousand years later.

If you are the type who likes to stroke your beard and think or to pace and stroke your beard and think, or to pace and stroke your chin and think – for do we have incontrovertible proof he had a beard? – Aristotle will give you something to think… about your beard.

Gentlemen, see Historia Animalium, Book III, Ch. 11:

In some cases among men the upper lip and the chin is thickly covered with hair, and in other cases these parts are smooth and the cheeks are hairy; and, by the way, smooth-chinned men are less inclined than bearded men to baldness.

Ladies, see Historia Animalium, Book III, Ch. 11, a few paragraphs earlier:

Women do not grow hairs on the chin; except that a scanty beard grows on some women after the monthly courses have stopped; and similar phenomenon is observed at times in priestesses in Caria, but these cases are looked upon as portentous with regard to coming events.

Thinking about starting an argument? If you're not starting with Aristotle, maybe you're not doing it right.

Oman frankincense, Greek sage, and white juniper.

Add to cart
Black Phoenix's Hair Gloss is paraben and sulfate free, and contains no petro-chemicals, no GMOs, and no triclosan.
Our hair gloss has a six-month shelf life.
Handmade by Black Phoenix. As always, no animals were harmed during the creation of this product, and all products were tested on friends and family.
Please exercise common sense when using our HAIR GLOSS: do not eat, do not snort, do not drink, do not pour into eyes, etc. If irritation occurs, discontinue use immediately.
Cyclomethicone, botanisil, Vitamin E, argan oil, Tahitian monoi oil, camelina oil, and karanja oil.
Alice Hair Gloss

Curiouser and curiouser. Milk and honey with rose, carnation and bergamot.

Out of Stock

Aziraphale Hair Gloss

Many people, meeting Aziraphale for the first time, formed three impressions: that he was English, that he was intelligent, and that he was gayer than a tree full of monkeys on nitrous oxide. Two of these were wrong; Heaven is not England, whatever certain poets may have thought, and angels are sexless unless they really want to make an effort.

Ethereal musk, blonde woods, and dusty Bible accord.

Add to cart

Bastet Hair Gloss

Bast, Ubasti, Ailuros, Ba-en-Aset. Represented as both a domestic cat and a fierce lioness, she truly evidences traits of both. She is the Mother of All Cats, Goddess of Sensuality, Fertility, and a guardian and protector of women. She is also one of the Eyes of Ra, and in that aspect is an Avenging Goddess, seeking retribution and punishing enemies of her people.

Luxuriant amber, warm Egyptian musk, fierce saffron and soft myrrh, almond, cardamom and golden lotus.

Add to cart

Blood Kiss Hair Gloss

Lush, creamy vanilla and the honey of the sweetest kiss smeared with the vital throb of husky clove, swollen red cherries, but darkened with the vampiric sensuality of vetiver, soporific poppy and blood red wine, and a skin-light pulse of feral musk.

Add to cart

Bourbon & Bone Hair Gloss

Clacking white sandalwood drenched in whiskey and a puff of cigar smoke.

Add to cart

Crack of Thunder Hair Gloss

Streaks of blue-white lightning slashing through a plum wine sky.

Add to cart

Crowley Hair Gloss

Nothing about him looked particularly demonic, at least by classical standards. No horns, no wings. Admittedly he was listening to a Best of Queen tape, but no conclusions should be drawn from this because all tapes left in a car for more than a fortnights metamorphose into Best of Queen albums. No particularly demonic thoughts were going through his head. In fact, he was wondering vaguely who Moey and Chandon were.

Crowley had dark hair, and good cheekbones, and he was wearing snakeskin shoes, or at least presumably he was wearing shoes, and he could do really weird things with his tongue. And, whenever he forgot himself, he had a tendency to hiss.

Infernal musk, red patchouli, lilac cologne, mahogany, lemon rind, oakmoss, leather, and vanilla husk.

Add to cart

Eat Me Hair Gloss

Soon her eye fell on a little glass box that was lying under the table: she opened it, and found in it a very small cake, on which the words 'EAT ME' were beautifully marked in currants.

'Well, I'll eat it,' said Alice, 'and if it makes me grow larger, I can reach the key; and if it makes me grow smaller, I can creep under the door; so either way I'll get into the garden, and I don't care which happens!'

She ate a little bit, and said anxiously to herself, 'Which way? Which way?', holding her hand on the top of her head to feel which way it was growing, and she was quite surprised to find that she remained the same size: to be sure, this generally happens when one eats cake, but Alice had got so much into the way of expecting nothing but out-of-the-way things to happen, that it seemed quite dull and stupid for life to go on in the common way.

Three white cakes, vanilla, and red and black currants.

BPAL's Eat Me is not for eating. Please use common sense, and remember: hair glosses are for external use only.

Add to cart

Hair Loosened & Soiled in Mid Orgies Hair Gloss

All shrines that were Vestal are flameless,
But the flame has not fallen from this;
Though obscure be the god, and though nameless
The eyes and the hair that we kiss;
Low fires that love sits by and forges
Fresh heads for his arrows and thine;
Hair loosened and soiled in mid orgies
With kisses and wine.

White honey, warm musk, and ambrette seed.

4oz bottle.

Add to cart

Implacable Beautiful Tyrant Hair Gloss

When, with flame all around him aspirant,
Stood flushed, as a harp-player stands,
The implacable beautiful tyrant,
Rose-crowned, having death in his hands;
And a sound as the sound of loud water
Smote far through the flight of the fires,
And mixed with the lightning of slaughter
A thunder of lyres.

Golden amber, frankincense, white ginger, and oudh.

4oz bottle.

Add to cart

La Roue de Malheur Hair Gloss

Red musk, blackened patchouli, opium tar, inky oudh, champaca flower, pomegranate pulp, frankincense, and tobacco.

Add to cart

Morocco Hair Gloss

The intoxicating perfume of heady incenses wafting on warm desert breezes. Arabian spices wind through a blend of warm musk, carnation, red sandalwood and cassia.

Add to cart

Nerves and Sinew, Wood and Clay Hair Gloss

Taut red strings of daemonorops draco and licorice root tugging on carved oak streaked with vetiver and clove with bright nerve-sparks of frankincense and elemi.

Out of Stock

Razors in a Doll's House Hair Gloss

Rose water, cognac, and lace slashed with gleaming silver.

Add to cart

Red Incense Hair Gloss

Red sandalwood, myrrh, cinnamon husk, and copal bound with blood, currants, and red wine.

Add to cart

Snake Oil Hair Gloss

Snake Oil was one of my first creations, one of the original BPAL scents, and is as bound up with my own history as it is with the history of Black Phoenix. It is the scent I wore on my wedding day, the scent I wore while giving birth to my child, and it is as much a part of me as my own eyes, breath, or limbs.

Snake Oil has shed its skin, and is back — now with vintage patchouli and dark, rich, aged vanilla absolute. Snake Oil is our signature scent, our first perfume: deep, rich, earthy notes swirled with vegetal musks, sugared vanilla bean, and dark spices.

Add to cart
All of our bath and body products are handmade, and contain the gentlest, most nourishing ingredients imaginable. Black Phoenix's body line is environmentally-responsible, devoid of harsh chemicals and fillers.
As always, no animals were harmed during the creation of this soap, and all products were tested on friends and family.
Aeris Massage Oil

In alchemy, the archetype of air represents the movement of spirit and thought. Aeris uses a combination of lemon, verbena, orange blossom, cypress, sweetgrass, white grapefruit, and lavender to help stimulate mental acuity and inspire creativity.

4oz Bottle

Out of Stock

Aquae Massage Oil

In alchemy, the archetype of water represents cleansing and purification, emotion and intuition. We express that essence here through our blend of Roman chamomile, frankincense, sandalwood, helichrysum, davana, geranium, and lavender. This massage oil helps release emotional trauma, alleviates stress, and imparts a sense of tranquility and well-being.

4oz bottle.

Out of Stock

Ignis Massage Oil

In alchemy, the archetype of fire represents activity and transformation. Our blend of ylang ylang, patchouli, sandalwood, myrrh, palmarosa, and King mandarin personifies this classical element, and expresses itself through the stimulation of your sexual energy. This massage oil inspires passion, relaxes inhibitions, and instills you with a sense of power and magnetism.

4oz bottle.

Out of Stock

Terrae Massage Oil

In alchemy, the archetype of earth represents practicality, the manifestation of thought and will, and material creation. Our blend of patchouli, myrrh, spikenard, oakmoss, and clary sage grants a sense of stability, and will help keep you grounded.

4oz bottle.

Out of Stock

TKO Massage Oil

Soothing lavender in a blend of skin-softening almond oil, rice bran, and vitamin E.

Many things — such as loving, going to sleep, or behaving unaffectedly — are done worst when we try hardest to do them.

4oz bottle.

Add to cart

Ugh Massage Oil

Muscle ache relief. The combination of arnica, rosehip, evening primrose, almond oil, and apricot kernel oil is high in vitamin C and gamma-linolenic acid, and coupled with analgesic eucalyptus, invigorating orange, and refreshing rosemary, this blend is said to help heal bruises, reduce swelling, and soothe strained muscles and aching tendons.

4oz bottle.

Out of Stock
Allure Nail Polish

A sky blue creme, touched with a strange hope, and given depth by an inexplicable, profound sorrow.

Out of Stock

Banyan Nail Polish

Kelly green linear holographic filled with holo microflake and sparks of blue and green.

Out of Stock

Becoming Thunder Nail Polish

A tawny gold holographic that shifts from bronze to green and back again.

Add to cart

Bruised Violet Nail Polish

A vivid memory of injuries long-ago inflicted, of unforgiven horrors and unspeakable hatreds: a metallic sangria-purple, the color of blood welling-not under the skin, but within the soul.

Add to cart

Buried Secrets Nail Polish

The shimmering blue of midnight, ancient scars, and stifled whispers flickering with the metallic gleam of shadowed knives.

Out of Stock

Coin Trick Nail Polish

Lime-gold microglitter floating among gold flake.  Can be used as a lucky topcoat, or slather on two coats for an opaque treasure chest of gold.

Add to cart

Czernobog Nail Polish

Multichromatic flake that shifts from red to orange to gold seeped in dark steel micro flake.

(This is a "flake topper" that can be opaque in 3-4 thick coats.)

Add to cart

Dream Awake Nail Polish

Gleaming metallic gold flares of a powerful imagination. The gilded sheen of a muse's kiss, the glimmering, vivid glow of a story burning to be told.

Add to cart

Easter Nail Polish

Pale pink jelly-like finish packed with iridescent Easter Grass flake.

Add to cart

Fascination Nail Polish

Molten silver: the spark of one mind touching another in perfect understanding.

Add to cart

Haark Nail Polish

Bright, lemon yellow linear holographic filled with holo microflake and a coppery sheen.

Add to cart

Insatiable Nail Polish

The sun-bright flare of all-consuming passion: a ravenous yellow creme.

Add to cart

Jeweled Spider Nail Polish

A base the color of sweet dark coffee with a shimmer that runs throughout this trickster, shifting from red to green.

Add to cart

Laura Nail Polish

Pale gray lilac glowing with a shifting sheen that morphs from purple to blue to red.

Add to cart

Mad Sweeney Nail Polish

Four leaf clover green filled with gold shimmer and gold to bronze to silver mulitchromatic flake.

Add to cart

Mister Wednesday Nail Polish

Champagne gold holographic that twists and turns from hues of copper to blue.

Add to cart

Moth Shadow Nail Polish

Soft wings fluttering erratically – ceaselessly – in a trembling, slate-blue gloom.

Add to cart

Mr. Nancy's Gloves Nail Polish

A pale, sunny lemon-yellow sheen with a touch of scattered holographic.

Add to cart

Mr. World Nail Polish

White crelly that appears tinged green in the bottle. Filled with black, gold, and green microflake.

Add to cart

Natural Science Nail Polish

The laws of the physical world. Soft golden taupe shimmer: the pale brown hum of a locust swarm; the crunch of autumn leaves; the dusty wing of a Pseudosphinx tetrio.

Add to cart

Nova Nail Polish

A soft linear holographic top coat filled with holo microflake and iridescent shifting flake in two different color ways. It can be worn as a topper for any of the other Shards, or alone in 3-4 coats.

Add to cart

Pyre Nail Polish

A stop sign red linear holographic filled with holo microflake and a bit of copper shimmer.

Add to cart

Quill Nail Polish

Royal blue linear holographic filled with holo microflake and sparks of metallic turquoise.

Add to cart

Shadow Moon Nail Polish

Gray creme shot through with a multichromatic shimmer shifting through green and blue to fuchsia with flecks of gold.

Out of Stock

Skull White Nail Polish

Metallic skull-white, shards of bone splintering through flesh, blood, and sinew.

Add to cart

The Blood Must Flow Nail Polish

A red jelly filled with floating pieces of metallic flake that range from red to orange and dark steel micro flake.

Out of Stock

The Intangibles Nail Polish

Black based multichromatic that shifts from gold to bronze to green.

Add to cart

Veile Nail Polish

Tiger orange linear holographic filled with holo microflake and a bright gold shimmer.

Add to cart

Zenith Nail Polish

Red-based purple linear holographic filled with holo microflake and sparks of rose.

Add to cart