Mad Tea Party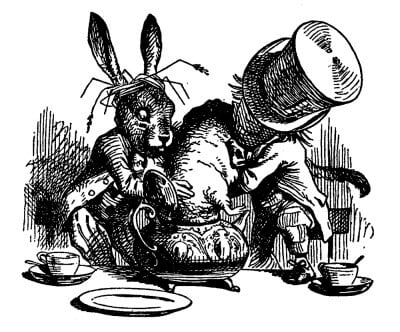 Why, sometimes I've believed as many as six impossible things before breakfast.
The Dodgson Collection.
Scents inspired by the madness of Alice's sojourns to Wonderland.
PERFUME OIL BLENDS
Presented in an amber apothecary glass vial.
More Mad Tea Party wares are available via the Trading Post.
Alice's Evidence Perfume Oil

There was a general clapping of hands at this: it was the first really clever thing the King had said that day.

'That proves his guilt,' said the Queen.

'It proves nothing of the sort!' said Alice. 'Why, you don't even know what they're about!'

'Read them,' said the King.

The White Rabbit put on his spectacles. 'Where shall I begin, please your Majesty?' he asked.

'Begin at the beginning,' the King said gravely, 'and go on till you come to the end: then stop.'

These were the verses the White Rabbit read:-

They told me you had been to her,
And mentioned me to him:
She gave me a good character,
But said I could not swim.

He sent them word I had not gone
(We know it to be true):
If she should push the matter on,
What would become of you?

I gave her one, they gave him two,
You gave us three or more;
They all returned from him to you,
Though they were mine before.

If I or she should chance to be
Involved in this affair,
He trusts to you to set them free,
Exactly as we were.

My notion was that you had been
(Before she had this fit)
An obstacle that came between
Him, and ourselves, and it,

Don't let him know she liked them best,
For this must ever be
A secret, kept from all the rest,
Between yourself and me.

'That's the most important piece of evidence we've heard yet,' said the King, rubbing his hands; 'so now let the jury-'

'If any one of them can explain it,' said Alice, (she had grown so large in the last few minutes that she wasn't a bit afraid of interrupting him,) 'I'll give him sixpence. I don't believe there's an atom of meaning in it.'

The jury all wrote down on their slates, 'She doesn't believe there's an atom of meaning in it,' but none of them attempted to explain the paper.

'If there's no meaning in it,' said the King, 'that saves a world of trouble, you know, as we needn't try to find any…'

Containing nary a neutron of meaning: rum-quince-cassis with prune and a bit of black ginger.

Select Options
Lewis Carroll used the Looking Glasses and Rabbit Holes of his fantasy world to mock many contemporary conventions and demonstrate, through nonsense, the strangeness of the human condition. The madness of Wonderland illustrated the absurdities he perceived in the strict, orderly world he lived in.
In the first perfumes of this subseries, our scents parallel the poetic parodies: Lewis Carroll versus Isaac Watts.
'Tis the Voice of the Lobster Perfume Oil

'Tis the voice of the Lobster: I heard him declare
'You have baked me too brown, I must sugar my hair.'
As a duck with its eyelids, so he with his nose
Trims his belt and his buttons, and turns out his toes.
When the sands are all dry, he is gay as a lark,
And will talk in contemptuous tones of the shark;
But, when the tide rises and sharks are around,
His voice has a timid and tremulous sound.

I passed by his garden and marked, with one eye,
How the Owl and the Panther were sharing a pie:
The Panther took pie-crust, and gravy, and meat,
While the Owl had the dish as its share of the treat.
When the pie was all finished, the Owl, as a boon,
Was kindly permitted to pocket the spoon:
While the Panther received knife and fork with a growl,
And concluded the banquet by —

A woody, musky-weird base glooping over with blackberry preserves, a twist of mandarin, strawberry juice, pulverized watermelon, and a handful of smushed gardenia petals.

Out of Stock

Against Idleness and Mischief Perfume Oil

How doth the little busy bee
Improve each shining hour
And gather honey all the day
From every opening flower!

How skilfully she builds her cell!
How neat she spreads the wax!
And labours hard to store it well
With the sweet food she makes.

In works of labour or of skill,
I would be busy too;
For Satan finds some mischief still
For idle hands to do.

In books, or work, or healthful play,
Let my first years be passed,
That I may give for every day
Some good account at last.

Pollen-dusted honey, diligent tonka, steadfast chamomile, and goodly hyssop.

Select Options

How Doth the Little Crocodile Perfume Oil

How doth the little crocodile
Improve his shining tail,
And pour the waters of the Nile
On every golden scale!

How cheerfully he seems to grin,
How neatly spreads his claws,
And welcomes little fishes in
With gently smiling jaws!

Chocolate peppermint, mint-soaked vanilla, pistachio, oakmoss, and green cedar.

Select Options
This time she came upon a large flower-bed, with a border of daisies, and a willow-tree growing in the middle.
PERFUME OIL BLENDS
Presented in an amber apothecary glass vial.
Brusque Violet Perfume Oil

`I never saw anybody that looked stupider,' a Violet said, so suddenly, that Alice quite jumped; for it hadn't spoken before.

`Hold your tongue!' cried the Tiger-lily. `As if you ever saw anybody! You keep your head under the leaves, and snore away there, till you know no more what's going on in the world, that if you were a bud!' 

`Are there any more people in the garden besides me?' Alice said, not choosing to notice the Rose's last remark.

`There's one other flower in the garden that can move about like you,' said the Rose. `I wonder how you do it — ' (`You're always wondering,' said the Tiger-lily), `but she's more bushy than you are.'

`Is she like me?' Alice asked eagerly, for the thought crossed her mind, `There's another little girl in the garden, somewhere!'

`Well, she has the same awkward shape as you,' the Rose said, `but she's redder — and her petals are shorter, I think.'

`Her petals are done up close, almost like a dahlia,' the Tiger-lily interrupted: `not tumbled about anyhow, like yours.'

`But that's not your fault,' the Rose added kindly: `you're beginning to fade, you know — and then one can't help one's petals getting a little untidy.'

Violet petal, violet leaf, osmanthus, orris, mint, and opoponax.

Select Options

High-Strung Daisies Perfume Oil

`It says "Bough-wough!" cried a Daisy: `that's why its branches are called boughs!' 

`Didn't you know that?' cried another Daisy, and here they all began shouting together, till the air seemed quite full of little shrill voices. `Silence, every one of you!' cried the Tiger-lily, waving itself passionately from side to side, and trembling with excitement. `They know I can't get at them!' it panted, bending its quivering head towards Alice, `or they wouldn't dare to do it!' 

`Never mind!' Alice said in a soothing tone, and stooping down to the daisies, who were just beginning again, she whispered, `If you don't hold your tongues, I'll pick you!' 

There was silence in a moment, and several of the pink daisies turned white. 

`That's right!' said the Tiger-lily. `The daisies are worst of all. When one speaks, they all begin together, and it's enough to make one wither to hear the way they go on!'

`How is it you can all talk so nicely?' Alice said, hoping to get it into a better temper by a compliment. `I've been in many gardens before, but none of the flowers could talk.'

`Put your hand down, and feel the ground,' said the Tiger-lily. `Then you'll know why.

Alice did so. `It's very hard,' she said, `but I don't see what that has to do with it.'

`In most gardens,' the Tiger-lily said, `they make the beds too soft — so that the flowers are always asleep.'

This sounded a very good reason, and Alice was quite pleased to know it. `I never thought of that before!' she said.

`It's my opinion that you never think at all,' the Rose said in a rather severe tone.

Daisy, pink carnation, pink pepper, and sugar.

Select Options

Snooty Rose Perfume Oil

`It isn't manners for us to begin, you know,' said the Rose, `and I really was wondering when you'd speak! Said I to myself, "Her face has got some sense in it, thought it's not a clever one!" Still, you're the right colour, and that goes a long way.' 

`I don't care about the colour,' the Tiger-lily remarked. `If only her petals curled up a little more, she'd be all right.' 

Alice didn't like being criticised, so she began asking questions. `Aren't you sometimes frightened at being planted out here, with nobody to take care of you?' 

`There's the tree in the middle,' said the Rose: `what else is it good for?' 

`But what could it do, if any danger came?' Alice asked.

Red rose, oud, plum, bergamot, and red sandalwood.

Select Options