Excolo
Est deus in nobis.
PERFUME OIL BLENDS
Presented in an amber apothecary vial.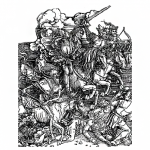 Est deus in nobis.
PERFUME OIL BLENDS
Presented in an amber apothecary vial.
Aizen-Myoo Perfume Oil

A bright, bittersweet scent honoring the Japanese Deity of Love and Passion. Aizen-Myoo is one of the vidyarajas, the Shingon's Radiant Kings of Wisdom. Though Aizen-Myoo possesses the lust, grace and passion of both genders, he most often appears to his followers as male. His face is screwed into a fearsome demonic mask, but this is only the wrathful, fierce countenance he places over himself to guide and empower his children. Aizen-Myoo is the patron of prostitutes, of joyous, unbridled sexuality and of all forms of erotic love and is worshipped by all those in the sex industry, musicians, and – oddly – landlords.

Yuzu, kaki, and mikan with cherry blossom and black tea.

Select Options
The Graces, the Charities, the the Gratiæ: Goddesses of beauty, charm, celebration and merriment. They are the personification of all these aspects as found in both nature and mortal life. Daughters of Zeus and the oceanid Eurynome, they are Aphrodite's attendants and work in harmony with the Muses as fountains of inspiration in the arts. In their aspect as fertility and nature deities, these Goddesses are associated with the Underworld and the Eleusinian Mysteries.
The Norse Sister-Goddesses of destiny, who measure the lives and fortunes of both Gods and Men and hold steady the ineffable laws of the cosmos. They are preservers and protectors of the Tree of Life and the Well of Fate, and give assistance during the birth of every mortal and divine creature.